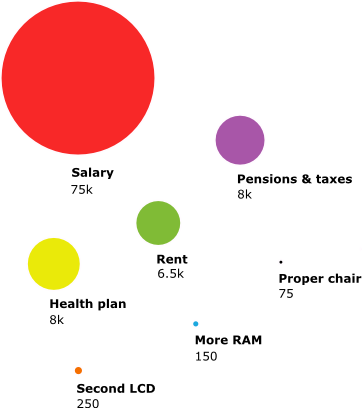 This is a breakdown of yearly expenses for one software developer (in USD), highly irresponsibly gathered from various sources on the internet.  For illustrative purposes only, parts may be missing, your mileage will vary, batteries not included.  But, I think it's not that far from the truth.
So, what does this picture tell me?  Lots of things.
The opportunity to save on, say, office chairs is extremely limited.
You really really don't want high turnover.  Any extra salaries you have to pay really hurts.
Spending an extra 20% on an extra nice office is worth it, if you get an extra 2% of productivity from your developers that way. That's about 9 minutes per day.
You want to maximize the bang for the buck you get from the big fat red blob.  If you don't give your software developers proper tools, such as two good monitors, plenty of RAM, and a proper chair, you are a raving lunatic.
What does the picture tell you?  What does it tell to your boss?  Your CFO?
Update: The references for this data:
PayScale – Software Developer Salary, Average Salaries
How much does an employee cost?
IFMA workplace study: Average space per employee
InformIT: The Cost of Managing Paper: A Great Incentive to Go Paperless!
2009 Health Care Cost Survey Reveals High-Performing Companies Gain Health Dividend
Herman Miller chairs prices (assumed to last 10 years)
Prices for monitors and RAM you can check e.g. at newegg. Assumed to last a year or two.
If you liked this, click here to receive new posts in a reader.
You should also follow me on Twitter here.